Subtitles and Captioning.
Many of you wanted subtitles and??captioning??for your Kera tutorials…. it has arrived!??You can now build step-based, subtitled tutorials without audio.??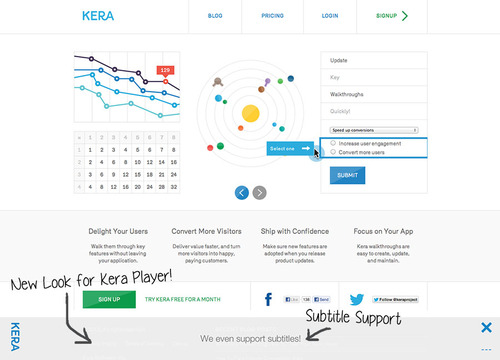 To see an example: go to the Kera homepage and find the word ???maintain??? and click on it. The secret step-by-step tutorial will start playing. Shortcut to homepage.
Our goal was to make it easier and faster for you to build walkthroughs. Now it can literally take 5 minutes to build and deploy a walkthrough. No audio required. Much better than making a video, huh?
How to build a step by step walkthrough?
Use the ???subtitle??? attribute and don???t specify the time.??This is the code for our secret hidden tutorial.
{
  "events": [
    { "type": "move", "path": "body", "subtitle": "Hey buddy! Welcome to our \"Awesome Interactive\" Tour. Click on the button to the right to continue." },
    { "type": "move", "path": ".social_facebook", "subtitle": "We have a Facebook page! Yay!" },
    { "type": "move", "path": ".social_twitter", "subtitle": "And Twitter Bird! ???????????????!" },
    { "type": "eval_javascript", "eval": " $('.carousel_nav.carousel_next.btn').attr('style', function(i, style){ return style.replace(/display[^;]+;?/g, ''); });", "subtitle": "See what we can do." },  
    { "type": "click_required", "path": ".carousel_nav.carousel_next.btn", "subtitle": "Try clicking it." },
    { "type": "click_one_required", "path": ".demo_form fieldset input[name='radio']", "subtitle": "What do you want?" },
    { "type": "click_required", "path": "a:contains(Pricing)", "subtitle": "Now check out our sweet pricing. Ok?" },
    { "type": "click_required", "path": "#pro-plan", "subtitle": "We want you to click this." },
    { "type": "pause", "subtitle": "That's all. See you soon!" }   
  ]
}
More Good News!
We now offer core analytics! To see your account analytics, click on the metrics tab in your account.

This view gives an aggregate of your impressions and plays, among other metrics.

Final thoughts
We've been getting a lot of word of mouth referrals so thank you for following and supporting us. You???ve been amazing at telling your friends about us. This is a special month for us because we started charging customers and are really excited about our next stage of growth. We also changed our policy to require all new users to apply to work with Kera.
Please let us know what you think about our new features.??
—-
Taige from Kera