Max Cameron
7Geese is a social performance tool for tracking goals, receiving recognition, and gathering feedback. Originally from Vancouver, the team is currently in San Francisco, and I was introduced to their CEO, Amin, through a mutual friend.
Amin was interested in Kera, so I created a 7geese account to see exactly what they were up to before we talked. I was really impressed with their first-time-user-experience, so I wanted to share it here.
When you first login to 7geese, you see a "profile completeness" widget. It shows me a list of four things I need to do to receive value from the app. Here are the features they chose to include:
Add a profile photo

Recognize a coworker

Create an objective

Ask a coworker for feedback
This is how Amin and his team define an activated 7geese user. In other words, this is the minimum set of features that must be used for a user to receive value from 7geese. If a user completes these four steps, they'll be more likely to convert into a paying customer.
This is effective because it gets you to create an emotional connection between you and the app, makes you commit to using it, and gives you a reason to come back - All within the first five minutes of logging in.
The Breakdown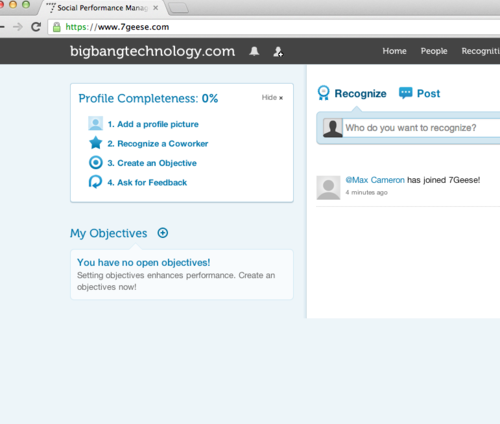 First, I clicked on the "Add a profile photo" link, which took me to the profile page. When I uploaded a photo and returned to the homepage, I saw that I was 25% complete. They started with something easy, which helped build momentum and motivated me to move on to the second task.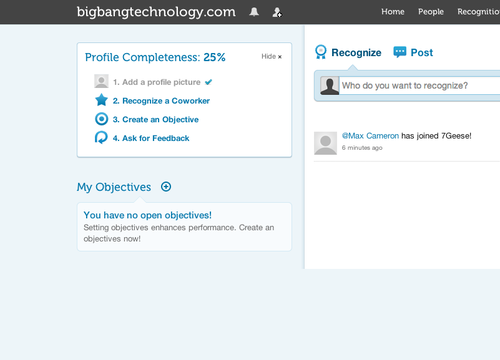 Then I went on to recognizing a coworker. When I clicked on the title of the task in the widget, it opened up a modal that allowed me to invite others. This is smart because it sucks another person into the app. Once you invite someone else to join, you feel compelled to take action and recognize them.
By this point I was really motivated to complete my profile, so I created my first objective. This is a slightly more challenging task than adding a profile photo, so they're using guiders.js to walk their users through the workflow. The tooltips are basic, but they're decent sign-posts to show me where to focus my attention.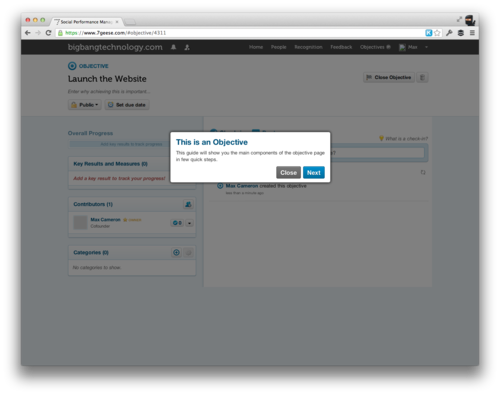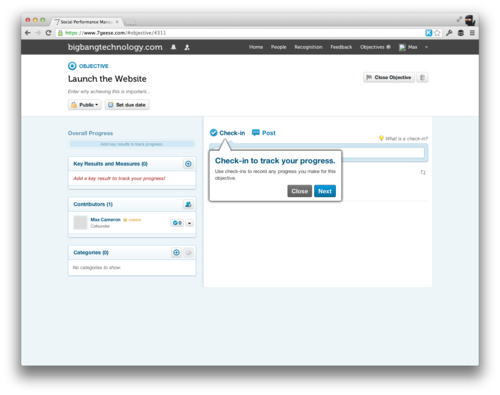 Once I've completed all the tasks, there's really no reason for the widget to take up so much screen space, so I hit the close button. I was a bit surprised that it closed forever instead of minimizing it, but I'm guessing they don't plan on updating the list very often.
To recap, here's the strengths and areas of opportunity for Amin's approach:
Strengths
They chose the right features to define activation

I knew exactly what I needed to do to get the most out of their app

I wasn't overwhelmed by the onboarding process

Using guiders.js for their tooltip framework is more efficient than building it from scratch, and more durable than using a walkthrough service
Areas of Opportunity
It took about a week of one developer's time to build - this is a big investment and will probably prevent them from updating or optimizing it

They don't collect any analytics on their widget, so I can't see how they'll measure its effectiveness

If a user accidentally closes the widget, it's impossible to open it again
Are you using a Get Started widget in your app? Let me know how it's working out for you in the comments.