Two weeks ago, I gave a talk at a B2B Marketing Group Meetup, BrainRider. It was about gamification in SaaS and enterprise businesses. Gamification is a hugely popular trend and is being incorporated in web applications of leading companies such as SAP, Adobe, and hot startups such as Codecademy to improve user engagement, productivity, loyalty, and ROI. How can you make your web application better by learning from great game design?
I'd like to share my presentation with you. There should be a video of it somewhere but I don't have it. So here's a summary.
Background
Taige Zhang is a product marketing manager at Kera.io, a Toronto based startup that offers the leading platform for building and deploying in-app tutorials for websites or applications. Before joining Kera, Taige worked as a social gaming product manager.

Product Marketing Manager at Kera (Leading platform for interactive tutorials)

Social Gaming Product Manager at Plinga (48+ Million MAU)

Analyst at Apple and WPP
Gamification
Gamification is taking the mechanics of gaming to non-game activities to change people's behavior. It leverages our natural desire for competition, achievement, status, reward, self-expression and altruism. It is used to improve user engagement, retention, and ROI.
History
Google Trends: Interest over time

2007 Facebook apps start using game mechanics
2008 Social games fine tune game mechanics
2009 PMs start using gamification in consumer apps
2010 Badgeville launches Social games fine tune game mechanics
2011 Social Gaming Gamification Enterprise Adoption: Facebook apps Oracle, SAP, Adobe, EMC, start using game Samsung, NBC, Deloitte, mechanics Rogers, Bell, and eBay.
Gamification Growth
M2 Research estimates Gamification Market to be half billion dollar market in 2013. It's being used across industries such as Entertainment by Warner Brothers and Kiip; enterprise by Jive and EMC; education by Eduguide and Pearson; healthcare and wellness by Nike; media by Fox; and retail by Zappos.
Consumer Gamification Example
Gamification leverages our natural desire for competition, achievement,status, reward, self-expression and altruism.

1. Progress bar to encourage completion
2. Badges, trophies and achievements
3. Leader board
4. Customized profile for self-expression
5. Challenges and teamwork activities with other users
6. Explicit missions and goals for users
7. Tracking and rewarding user activities
8. Systems for awarding, redeeming, and exchanging points
Check out: http://success.adobe.com/microsites/levelup/index.html
Enterprise Web Application Example
In late 2011, Salesforce.com acquired social performance platform provider Rypple, which uses gamification for employee performance and HR.
Results & Metrics Across Disciplines
Data in case studies on my shared gamification folder. Request access by contacting me @taigeair
Virtuous Cycle of Web Applications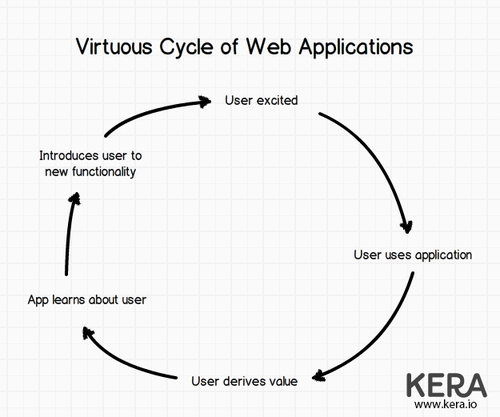 The way a successful web application works is by 1.) exciting the user enough so the user decides to 2.) take action and use the web app. 3.) The user should derive value from using the application. 4.) The app must learn about the user through analytics and 5.) deliver new value to the user such as opening up new functionality, teaching user new things, and building new features. The loop continues with the user getting excited all over again.
You can use an agency or video producer to accomplish the first task of exciting the user through a video. Check out our Kera's Definitive List of Top 50 Best Product Tour Videos to see some brilliant videos and who made them.
You can use Kera (us!) to onboard the user and get them started with your application. When you go to a board game cafe, they often have people who will sit in for the first few rounds to teach you how to play a game. Kera's like that but for your web application.
Once the user knows how to play your game, it's up to the game to keep the user engaged and retained. You do that with great game design; and the easiest way you can do that is by leveraging game mechanics. Check out Badgeville or Bunchball.
Continued Learning
Here are some resources for gamification.
https://www.coursera.org/course/gamification
http://www.gsummit.com
http://marczewski.me.uk
http://www.enterprise-gamification.com
You can also contact me on twitter @taigeair to get access to my Gamification Shared Folder
Thanks!
Taige Zhang (Product Marketing at Kera)
—
The original keynote.
Leveraging great game design for web applications (#torontob2b talk) from Taige Zhang