The Interactive Onboarding & Learning Landscape
Product Tour videos are amazing at getting visitors excited (see our favourites). Video product tours aren't enough though. Once you have the user interested. What's next?
You onboard and educate them. You onboard them with images and a funnel. Use jQuery tours. Provide tooltips. Show them "how to" videos. You can even get them on an interactive tour.??
Facebook jQuery tour: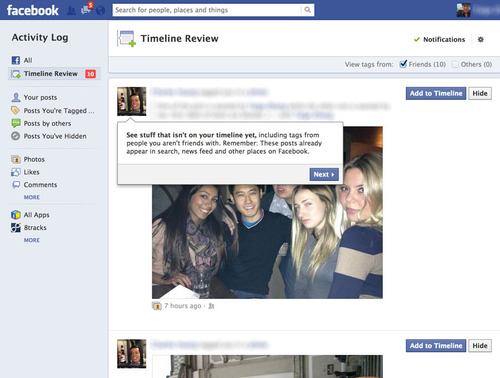 The Market & Categories
There is no clear market leader for Interactive Onboarding.??Actually, this problem of conversion optimization??is so nascent that there isn't even a real category??for it. Is it marketing automation, customer success, or gamification? Seriously. Where does it fall? (Comment below.)
If you're a product owner or UX designer trying to find a solution like us, good luck. You won't find it with a Google search. 100% of our customers found us through press and word of mouth. We don't do outbound sales.
So what do our competitors call themselves and what keywords do they use???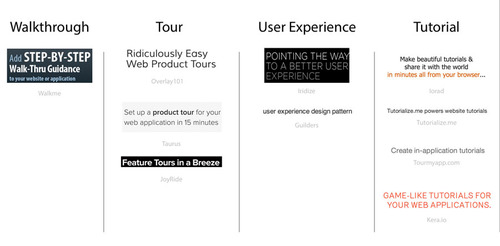 There are 4 distinct keywords used: walkthrough, tour, user experience, and tutorial. WalkMe obviously uses walkthroughs. Overlay101 and their kin use tour.??Iridize??and their folks use user experience. We and our homies use tutorial.
Why Tutorials?
We use tutorial because it sounds active. A game tutorial is something that helps you learn the UI and game play, matching level to difficulty. Lynda??is one of the best teaching and training platforms and they use the word tutorial.??
A walkthrough is more of a demonstration and overview - "here, let me walk you through our website. Let me give you a tour." As opposed to tutorials where you learn something specific. Remember tutorial class in high school? I definitely do. It was awesome. (Good to know my high school hasn't changed their schedule much).??
A walkthrough is more of a lecture where the professor talks and you try to take it in. Codecademy is a tutorial. This is a walkthrough.
That's why we're positioning ourselves as a tutorial company. We want to grow with the users. We give the user more advanced tasks as the user becomes more skilled. Not just introduce them to the UI and leave.??
We're like Lynda for web apps but better.
WalkMe Alternatives and Competitors
This is how the players in the market are distributed on a position map.
Pricing??
WalkMe charges about $400 to over $4000 per month from what we've heard and may be considered the market leader having raised the most money and having started the earliest.??
WalkMe Pricing

At the other end of the spectrum, there are free and open-source tools like Joyride. Basic jQuery tours. They require you to be able to code and be somewhat technical.??
In the middle, you have easier to use versions of the open-sourced tools.??
Taurus Pricing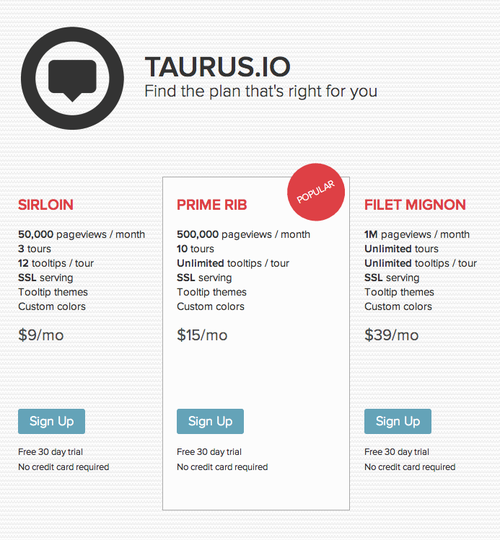 ??
Overlay101 Pricing??
??
Tutorialize.Me Pricing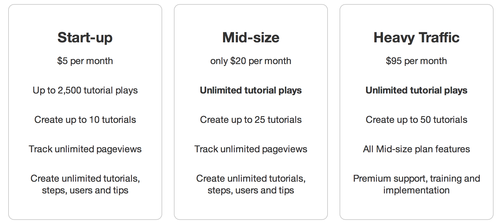 TourMyApp Pricing
We are positioned??similarly??to WalkMe. We're both market leaders in terms of our product and support. However, since we don't have the funding they have to do enterprise sales, we must compete on inbound marketing and product quality.
Kera Pricing

Let's take a look at what makes everyone different.
Features
WalkMe has a good editor for authoring and a nice discovery tool which allows you to see which walk-thrus are available to you. You can click on one to be walked through.
WalkMe Discovery Tool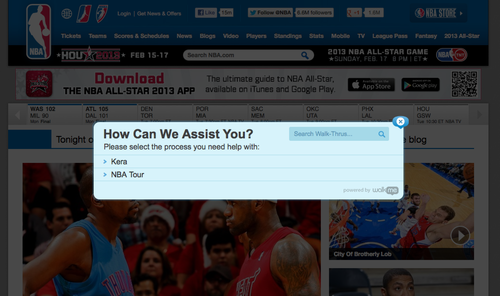 WalkMe Playback view.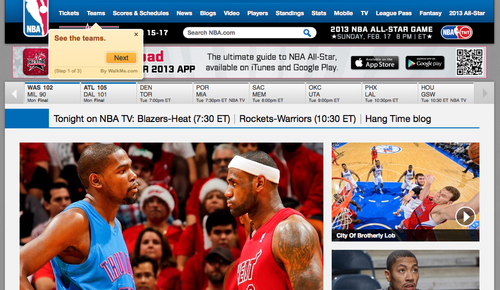 Tutorialize.me has an interesting playback. They darken the whole screen and spotlight on the particular item.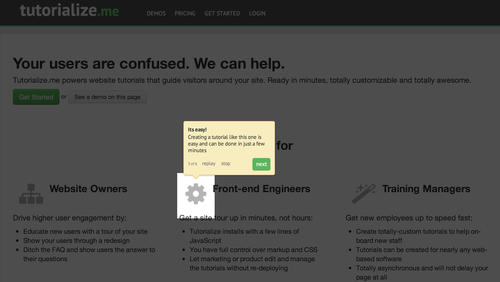 Iridize also does something cool. They allow you to add a splash modal to start the tutorial. You can use text or video.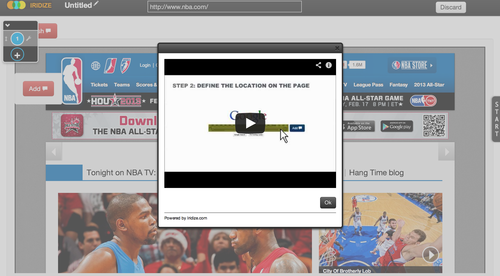 Don't use this article as the definitive source for features of these companies because I'm sure they will come out with awesome new features and this will be out-dated very soon. I'm just illustrating how each of these onboarding tools offers something cool and different. Most of them have a free trial, so give them a try.
At Kera, we offer interactive tutorials??that are voice-guided and completely interactive; meaning you can accomplish actual tasks in the application as you're learning. Just like game tutorials. There's nothing like this on the market. It's so immersive that people often refer to our tutorials as videos even though it's actually the live web application the user is seeing when they take our tutorials. See it for yourself at Kera.io
We understand audio is pretty??expensive??to produce so we??facilitate??step-by-step tutorials (SXST) too which use subtitles instead of audio. These tutorials are extremely quick to author. To work with us you need to apply.??
Final Thoughts
We'd like to hear from you. What's the problem you're trying to solve???Who do you think does it well???How do you go about searching for us? How do you compare us? Which??authoring??experience do you love? Which??playback??experience do you love???
Taige from Kera.