Idea
We want people to learn about our platform for building and managing in-application tutorials. We've been trying to increase our conversion rates of people playing a tutorial.
Why not just play it then? We considered auto-playing the tutorial but it would be too annoying and intrusive so we opted against it. Auto-launching however might be a great way to get them to notice we have a tutorial they can play.
Quick Test
We ran two home page variants. One that auto-launched our tutorial in a paused state and one that didn't. An auto-launch is when the Kera play bar loads and you see a play button.
Results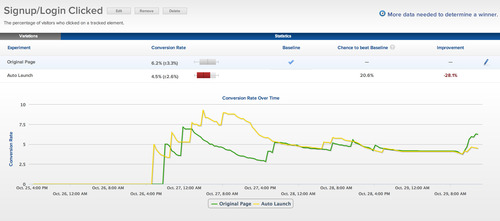 The graphs above show auto-launching a tutorial helped with engagement but didn't increase signups.
Thoughts
Increasing the discoverability of tutorial by loading the Kera play bar didn't translate to more signups. Some possible reasons may be 1.) people like to be in control of launching a tutorial 2.) they found it intrusive and we lost goodwill - kind of like animated talking avatars or Microsoft Office's Clippy, or 3.) people thought it was a video or sound player.
We didn't track if auto-launching the player increased the percentage of people playing tutorials but we should next time.
It's possible a video or entertaining animation is best for introducing new visitors to your application. Once a user has decided to invest in your product or application, the tutorial may be the appropriate and powerful way to educate users, shape user behaviour, and prevent churn in the application. For example, we got 3X more users to build a tutorial by auto-playing our "Welcome to Kera Tutorial" post sign up.
We're building case studies on Kera tutorials' effects on metrics before sign up, during signup, after signup (onboarding), and in regards to customer support. If you have built a Kera tutorial and would like to work on a case study with us, please email me at taige@kera.io We'll give you a good discount!
– Taige Zhang